07-21-2014, 05:34 AM
(This post was last modified: 07-21-2014 05:35 AM by gred.)
gred
RIP forums


Posts: 1,995
Thanks Given: 4,242
Thanks Received: 4,752 in 1,135 posts
Joined: Jun 2014
Reputation: 41
TUTORIALS
i think thread like that should be here,feel free to paste your tips and tricks with s-tuner
let me start:
painting parts that cannot be painted
im sure you guys noticed some you just cant,i dont know why,paint,well i found a effective way how you can paint these parts...
so lets say,you have a skyline c110 in progress,and you want to chrome all the parts thats supposed to be in chrome,+ you want to paint taillights panel in car color,this is usally the max you can do:
you just cant make light trims chromed,so do the panel of tails is allways back....at this point,you can deal with it,or do that:
click on some clickable part of tails,in case of c110 its that trim around whole taillights panel,click it 2x,and options "edit part","paint part","diselect part" will pop up,click on "edit part"...
this window will appear at top of the screen,what you need to do,is mark that "move object group" window,this is important,because if you wont do it,you will be working only with that trim,not the complete taillights,after you marked it,press the "copy" button,this will happen:
another taillights will appear,i dont know why,but at that copyed one can be painted all,panel,trims around lights,etc,so now you have 2 options,paint it now,sometimes its better,because you have better acess to some things than on car,or,you can leave it for the end.in that case,look at the part edit window again,you shall be in "position" now,so look at "move left/right" at right,there is "R" box,click it,and taillights will get back on theyr original position...thats nice,but now you have 2 pairs of tails,how to get rid of the unpaintable ones?you can close the part edit window now,you wont need it anymore,then do this:
go in the first option in down menu,the menu where you add things on car,choose car etc,i dont know how its called actually,lol
.
now,mark the "ignore parts filter" button,then click on "taillights",and somewhere in the list is like 3x "none",by that only your copyed taillights stayed at the place,and the original not paintable ones was removed....and thats it,if you didnt painted it after you copyed it,nows the time,click on part you want to paint,for example taillights panel,in the part option box choose "paint part" and go let your imagination works
continue in next post,i hit some image limit or wtf,lol
---
and there is the result:
thing we wanted to do from the very beggining,taillight trims are chromed,and the panel is in car color
ofc you can use this method at all parts that seems to be unpaintable,like inside of headlights,window trims,etc....oh and i nearly forgot,after you do that,these parts can have graphics,like the rest of the car
well that would be it,hopefully this will help to someone,and for others,feel free to post your tips and tricks,too
---
The following 2 users say Thank You to gred for this post:
2 users say Thank You to gred for this post
HeyDayJordan
(09-24-2014)
,
IVSQU4D
(11-18-2014)
08-03-2014, 09:53 AM
Brandon
Road Warrior


Posts: 229
Thanks Given: 20
Thanks Received: 212 in 87 posts
Joined: Jul 2014
Reputation: 6
RE: TUTORIALS
HEADLIGHT INTAKE TUTORIAL
Select Exhaust 2, this exhaust will have a black circle at the end of it - NOTE: NOT ALL VARIANTS HAVE THE BLACK CIRCLE, CLICK "IGNORE PARTS FILTER" TO FIND THE CORRECT ONE.
Double click the exhaust, select "edit part" then tick "move object group" and click "copy". Once you have a copy of the exhaust, un-tick "move object group" and move the exhaust away. You should be left with this black circle.




Once you have the black circle, move it to the front of the car. Then in the engine parts section under "Other" find the "Pipe Straight".




Position the black circle over the headlight you wish to turn into an intake.
NOTE: It may be easier to move the glass of the headlight out of the way like I have before doing this.



Change the size of the circle to fit comfortably within the headlight.
Then move the pipe straight and adjust it's size to fit around the circle.



Once you're happy with the placement you can replace the glass.
I changed the colour of the glass to black and adjusted the "shine" of it to get a more natural look.
Feel free to leave the glass off and remove it if you prefer.




Hope this helps some of you guys! - Brandon.


---
The following 1 user says Thank You to Brandon for this post:
1 user says Thank You to Brandon for this post
drifternick28
(09-19-2015)
08-03-2014, 10:14 AM
gred
RIP forums


Posts: 1,995
Thanks Given: 4,242
Thanks Received: 4,752 in 1,135 posts
Joined: Jun 2014
Reputation: 41
RE: TUTORIALS
nice to see im finally not the only one in this,nice tutorial,one time i will try this
---
08-03-2014, 05:41 PM
(This post was last modified: 08-03-2014 05:45 PM by jaster909.)
jaster909
Junior Member


Posts: 2
Thanks Given: 0
Thanks Received: 0 in 0 posts
Joined: Aug 2014
Reputation: 0
ROOF SCOOPS!
EASY ROOF SCOOPS
what i use is the s12 turbo hood, once you get the car u want selected click ignore parts filter and for hoods select s12 turbo, double click the hood scoop and click COPY you cant just edit it or when u put the normal car hood on you will lose it, make it much smaller rotate it then fit it to the roof of the desired car. enjoy!
08-04-2014, 12:06 AM
(This post was last modified: 08-04-2014 12:08 AM by jay8393.)
jay8393
Junior Member


Posts: 9
Thanks Given: 1
Thanks Received: 13 in 3 posts
Joined: Jun 2014
Reputation: 0
RE: TUTORIALS
I have seen quite a number of people who have made BMW's trademark "kidney grille" in S-Tuner, and many others would always ask how to make the grille. I'll be honest, I was one of those people, but chances are, you won't get any answer at all. That pushed me to start experimenting, and finally, I can share it with you guys how to make it!
HOW TO MAKE BMW'S "Kidney Grille"
First, obviously, select a car. In my case, I'll use a Datsun 510 as my base.
The key to making the kidney grille is using engine parts. Yes, no joke. So what you need to do now, is to get the engine. Go the the engine tab and select "V8" under the "Type" drop-down list. You will then obviously get the engine block in the engine bay.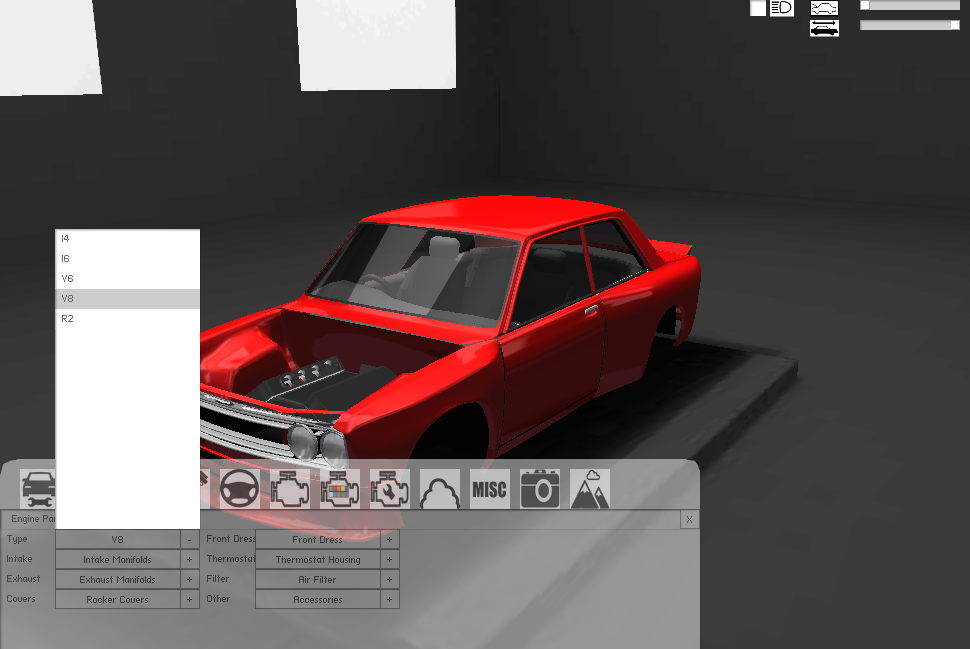 Next, click on the "Intake Manifold" tab, select "Blower 3".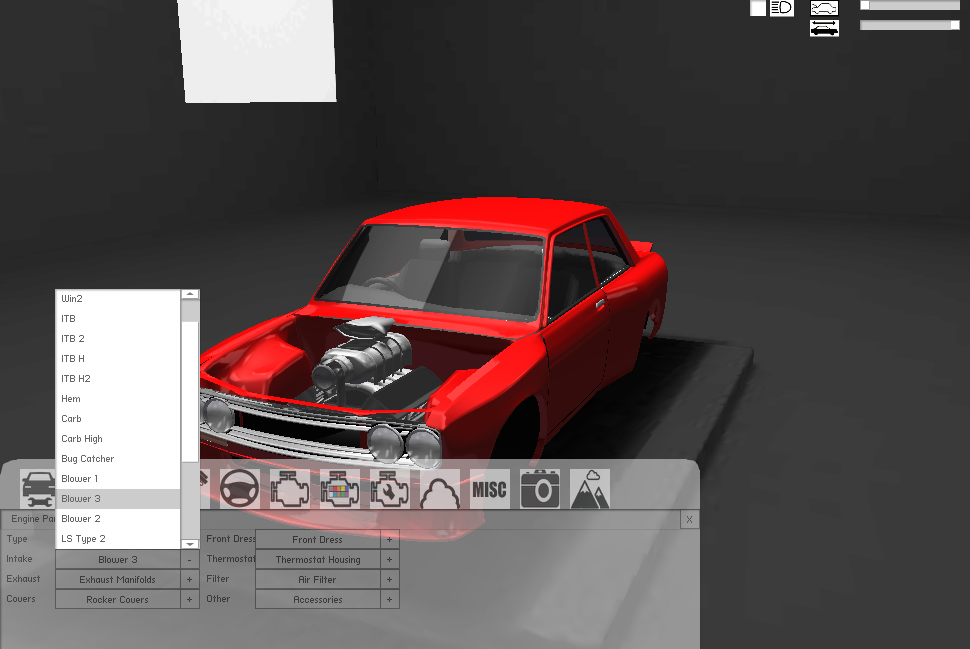 The next step is to hover your mouse cursor on the blower. Double-click on it and select "Edit Part". The editing box will appear on the top left corner of the screen. Make sure to check "Move Object Group" box, as circled in the picture. After that, move the blower upwards by sliding the "Move Up/Down" slider bar to the right so that it will be easier for you work with it.
Remember I said that the kidney grille is to be made using engine parts? Well, the "grille" is actually the blower's belt! So, select the rest of the blower (EXCEPT for the belt) by double-clicking them and delete the parts using the editing box's "Remove Object" tab until you are left with the belt and another part as shown in the following picture, which is linked to the belt and cannot be removed. Don't worry though, as that part will be hidden from view once you've got a hood on.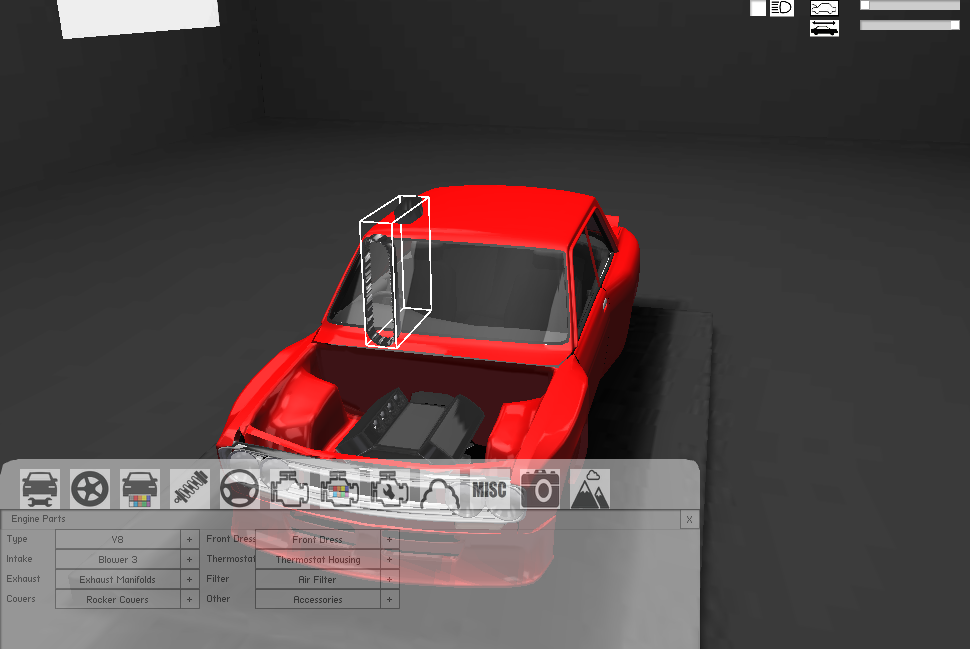 Now that you are left with the belt, you can resize it by decreasing or increasing the height and width to your desired size (or maybe even rotating it and stuff). Then, placed it over your car's grille area and adjust its position so it is offset to one side. Don't forget, there is only 1 belt at the moment so you need to make space for the other piece of the grille. Once you got the position right, click on "Copy Object" on the editing box. Position this copied piece of the "grille" like a mirror of the first, and you have your (near) perfect kidney grille replica in S-Tuner!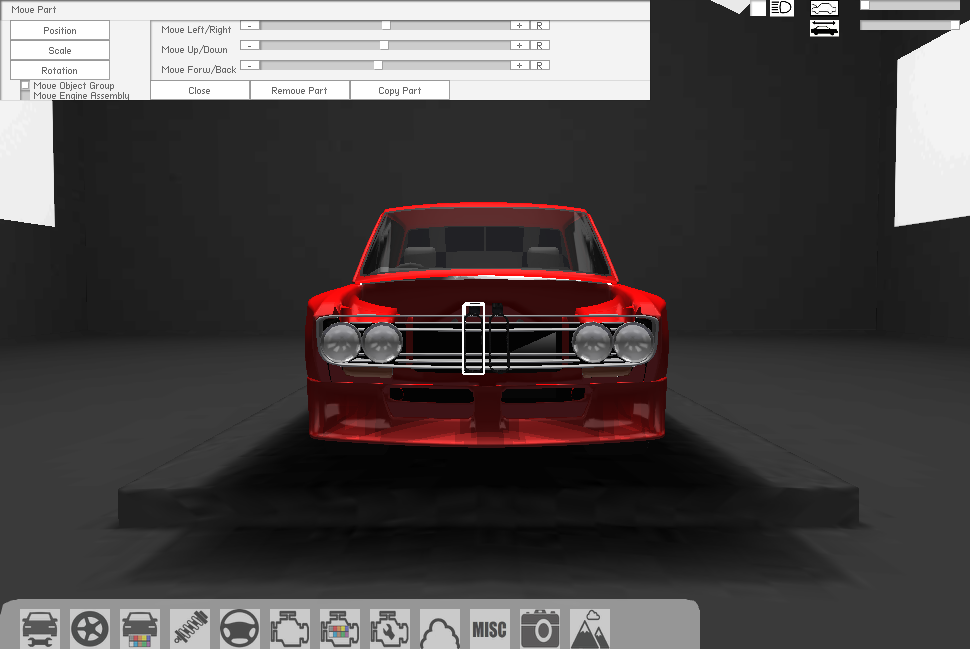 Here's an example of the final product. It might not be really visible in its stock colour, so you can repaint it to other colours by double-clicking on one of them and select the "Paint Part" option (which in my case, I painted them black). Remember to do the same on the other piece.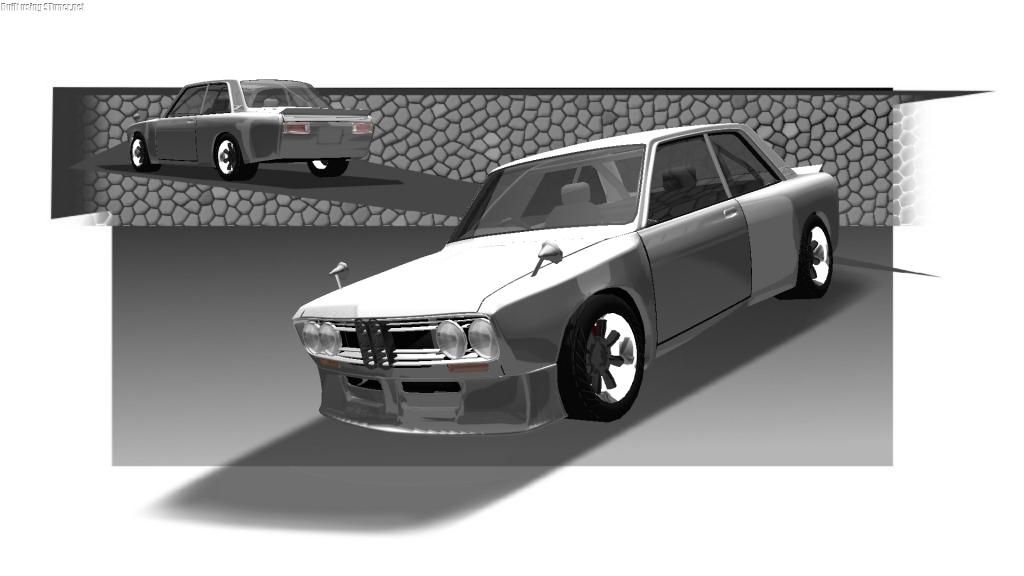 08-04-2014, 12:27 AM
Giacomo
Member


Posts: 60
Thanks Given: 463
Thanks Received: 128 in 33 posts
Joined: Aug 2014
Reputation: 1
RE: TUTORIALS
How to solve poor Flash performance - Chrome
Hi guys, on the Facebook page I've found some people having problems with S-Tuner, such as lag or low resolution of the configurator.
This is a common issue for Chrome users, and that's because PepperFlash (the built-in version of Flash) doesn't always work well.
In this tutorial, I'll show you how to disable PepperFlash and enable the stand-alone version of Flash instead.
To begin with, go to
chrome://plugins
.
Here you will find the installed plug-ins. Search Adobe Flash Player (hit F3 and write "Flash" to do it quickly).
You can see one or two files. Certainly, you'll find PepperFlash, the built-in version of Flash.
If you have
another file
, that's the stand-alone version of Flash. In this case, you just need to disable PepperFlash and hopefully you won't have performance issues anymore.
If you
only have PepperFlash
, you have to download the stand-alone version. You can do it from
here
or
here
.
So, make sure the integrated Flash version is disabled and the stand-alone one is enabled and S-Tuner won't lag anymore
For the mods:
I posted this tutorial here, but if you think this thread is more build-related, feel free to move my post elsewhere.
---
The following 2 users say Thank You to Giacomo for this post:
2 users say Thank You to Giacomo for this post
dipstik
(10-28-2015)
,
Fayce
(12-14-2014)
08-04-2014, 01:23 AM
gred
RIP forums


Posts: 1,995
Thanks Given: 4,242
Thanks Received: 4,752 in 1,135 posts
Joined: Jun 2014
Reputation: 41
RE: TUTORIALS
nice ones!
jay8393:
i have a note to your tut,i experimented with this subject too,and using grill from cefiro a31 works too
older pic to see:
---
08-04-2014, 04:24 AM
Fayce
For the glory of FINK


Posts: 29
Thanks Given: 5
Thanks Received: 19 in 8 posts
Joined: Jun 2014
Reputation: 2
RE: TUTORIALS
Choose any wheel for front OR rear, and choose the other as the BBS RS (RS) wheel,
And make your fitment Because you can't edit that afterward
P.S: make sure both of your wheels are the same size
Remove the wheel and center cap from the RS And the dish from the other wheel that you have chosen (Tarmac as shown)
Copy the dish from the RS, Then move it to the front wheel (
important
: The left and right is opposite with up and down) , And adjust the camber, By going to the Rotation Section, and Rotate X, it'll start to look something like this
repeat that process for the outer rim
Edit The center wheel (Tarmac) width, And make it look like its inside the outer rim
copy it, and move it to the rear, And that shall be it
Further Notes:
1.Don't change the RS wheel except if you want to redo the whole process
2.Don't try to rotate the wheels because the going to F things up And requires a whole other process.
Thanks for reading and enjoy your 3 Piece Wheels
---
The following 2 users say Thank You to Fayce for this post:
2 users say Thank You to Fayce for this post
Ajubdy
(05-25-2016)
,
Justas_LTU
(12-19-2015)
08-04-2014, 08:25 AM
gred
RIP forums


Posts: 1,995
Thanks Given: 4,242
Thanks Received: 4,752 in 1,135 posts
Joined: Jun 2014
Reputation: 41
RE: TUTORIALS
Fayce:
thank you! finally someone did a tutorial on this,i never could get it right
---
08-04-2014, 08:31 AM
Cooper
残暑お見舞い申し上げます


Posts: 1,160
Thanks Given: 1,167
Thanks Received: 2,545 in 652 posts
Joined: Jun 2014
Reputation: 16
RE: TUTORIALS
I can see this thread will get really good. I've only ever tried that wheel this to fix the look of the Watanabes lol, this inspires me a little
---
The following 1 user says Thank You to Cooper for this post:
1 user says Thank You to Cooper for this post
SuperchargedGamer
(07-20-2015)
User(s) browsing this thread: 2 Guest(s)