---
RE: IRL rides - Blitzwing - 12-07-2016 07:29 PM

So two new sets of wheels:

First out, Team Dynamics Pro Race 1.2, for trackdays, fitted with Federal 595 RS-R. Click for bigger images.



And for street, Rays Engineering Volk Racing C-Ultra, newly refurbished but the centre caps do need some love and decals will be fitted also.

---
RE: IRL rides - AllOfTheCars - 12-14-2016 02:19 AM

Enjoying this weather
https://www.youtube.com/watch?v=gmMuLJhyfuI


---
RE: IRL rides - airborneimpreza - 12-28-2016 04:55 AM

Nothing new on my side of things, just a whole bucketload of experiences. Had to go through a couple of breakdowns and mishaps, while also getting to experience the local car scene first hand. Replaced the alternator and overhauled the head with new gaskets, valves, and seals. Getting lowering springs as soon as college stops eating up all my savings.


---
RE: IRL rides - AllOfTheCars - 01-25-2017 08:45 AM

So many new mods. WRX momo wheel, window tint, morette headlights, jdm grill, bugeye WRX seats, and some more major things coming up soon. Next on the list is exhaust and rust repair. Don't mind the crappy winter wheel setup)
---
RE: IRL rides - emptypie - 01-26-2017 01:38 PM

New grille and lights look killer! I think you should put a different front bumper, maybe a sedan or sti. I just don't think the massive fogs go with the jdm headlights. Just my opinion though, keep being awesome


---
RE: IRL rides - AllOfTheCars - 01-27-2017 02:04 AM

Yeah I am not sure if I want to keep the bumper or not. I am taking the banner off though because there is too much going on IMO in the front end. We will see what I end up with though


---
RE: IRL rides - HeyDayJordan - 02-17-2017 11:11 AM

Clio is almost at where I want her. Only a few more things to fix up.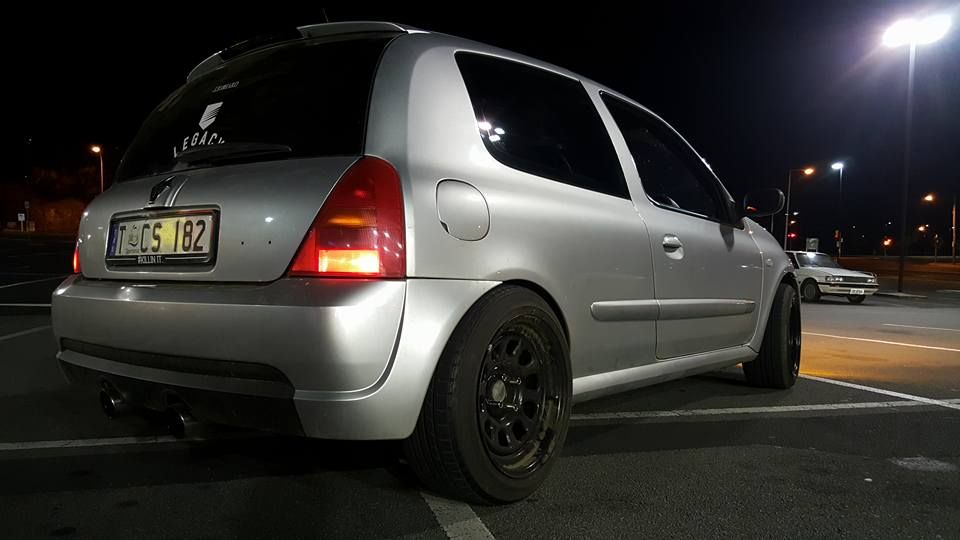 ---
RE: IRL rides - Blitzwing - 02-25-2017 06:31 PM

Got my thumb out of my ass and actually started working on my car again:


---
RE: IRL rides - C1500 - 03-15-2017 03:11 AM

Not actually new to this group, just been gone awhile due to work and life shits. Couldn't remember my password, I was HellaStockCD7. Anyway, since my absence, I've got another vehicle and a new girlfriend, might be getting promoted at my job so things are looking up.

So this is my 1994 Chevrolet C1500. It's got the 4.3 Vortec V6, 4 speed auto, it's on lowering blocks in the back and drop spindles in the front, has shaved door handles and tailgate, currently at 145,xxx original miles. I absolutely love this thing, I get compliments left and right. Pics are from in the Fall. Wanting to keep it for a couple years, fix everything that is wrong with it, just got a few 20 year old truck issues, nothing catastrophic and minimal rust.

Still have the Accord, windshield is busted now and have a few issues with the title and my exhaust rotting off, looking to maybe sell it this summer and get an EG Hatch or an S13.

---
RE: IRL rides - HeyDayJordan - 03-26-2017 09:25 PM


---