---
RE: IRL rides - Whippy - 10-23-2016 01:10 AM

Here's my KE70
I got it not too long ago, doesn't have too many mods.

Interior was painted so it doesn't have 100 different browns.
1.5in drop King springs
SSW Retro rims, the other side of the rims rub against the shocks so I'm going to put 5mm spacers on it.

Although it's a CS, it has air conditioning.

I plan to get a new steering wheel soon as well.


---
RE: IRL rides - gred - 10-23-2016 01:13 PM

meanwhile,i went shopping today Oo škoda favorit 136L,top condition
a replacement for my 120 as there are some issues with it and i wanted to go back to favorits after a while anyway...this is my 7th one lmao,but finally a fine non rusted one
planning some period correct mods and such shit like usally,gonna take better pics soon
---
RE: IRL rides - Whippy - 10-24-2016 03:05 PM

Some pics of the Keto when I got home with it from getting the wheels
---
RE: IRL rides - gred - 10-25-2016 09:17 AM

took few better pics today
few more HERE
---
RE: IRL rides - gas23 - 11-01-2016 12:28 PM

so I uh just remembered that this place existed lmaooo. anyway how's everyone been? my shitbox looks a little different, traded the rotiforms for some 17x10 oz pegasus in july. then I traded those last weekend for some 17x10 oz futuras haha. anyway onto the pics





yes i know my front fitment is shit, i'll sort it out by show season





hopefully i don't forget about this place for a little


---
RE: IRL rides - AllOfTheCars - 11-02-2016 05:25 AM

I have been busy with college and building the Legacy. I have a jdm grille arriving today or tomorrow, and I have bought a lot of things that will be installed next spring (fender flares, wheel spacers, jdm projector headlights, and many other good things), but for now it is in winter mode and looks horrible. I will upload some pictures shortly


---
RE: IRL rides - YoDonny - 11-06-2016 11:42 PM

My mercedes was fixed not to long ago and the money I had saved up to get a new car, was going to go towards completely redoing the benzo. Well I had a instinct buy one morning yet again like last year with the mercedes lol.


---
RE: IRL rides - HeyDayJordan - 11-26-2016 01:13 PM

Just remembered about this thread haha.

Quite a few things have happened. So, will break it down in a few piccys.

As most of you guys know, I bought an RS182 Clio. Since then, I sold my Mazda to my bro Aaron. He's since fitted Yellowspeed coilovers, some oldschool wheels, and a few mods for the interior such as a Glow-in-the-dark NRG wheel with NRG quick release under-dash lights and JDM Tsurikawa gear knob, etc... plus a Brox blast tip I had put away. Plan's are a 4wd conversion and some sort or RB swap. Not sure which one yet.

The Clio on the other hand has had half the interior stripped to make way for a Ktec roll cage later in the year. Recent mods include a Bride shift boot, OMP hub, Grip Royal Si wheel, NRG race horn button. Coming in the mail this week is a Milltek de-res pipe. Once the cage is in, we'll be fitting some Bride seats and Takata Harnesses. This will be a little over the top, but will be doing a rotary swap later on the clio. The engine's getting a little tired as she was thrashed quite a bit on the track in her day.

In the last image, you will see a pic of my bro Levi's Subaru he's just purchased. He'll be selling his custom Kawasaki Ninja soon to make way for mods on the Impreza.

Clio Interior: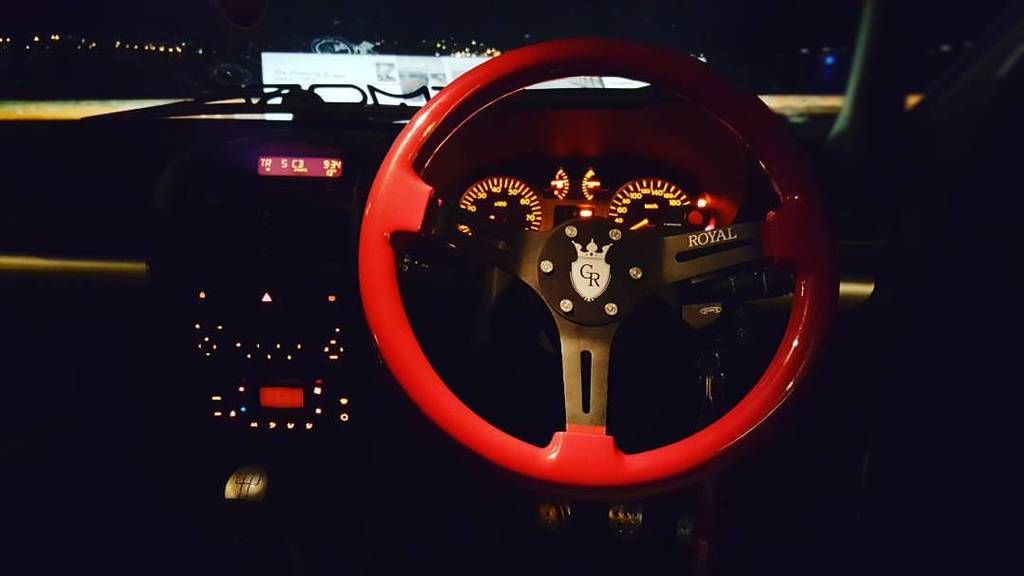 Mazda Interior: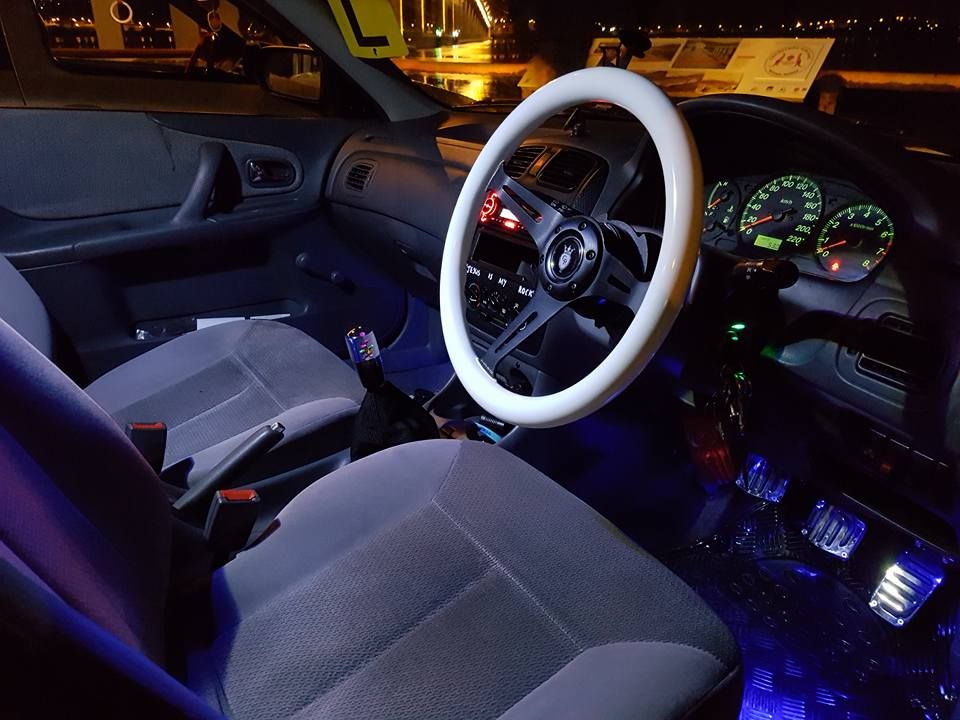 Cars & Coffee Hobart last week: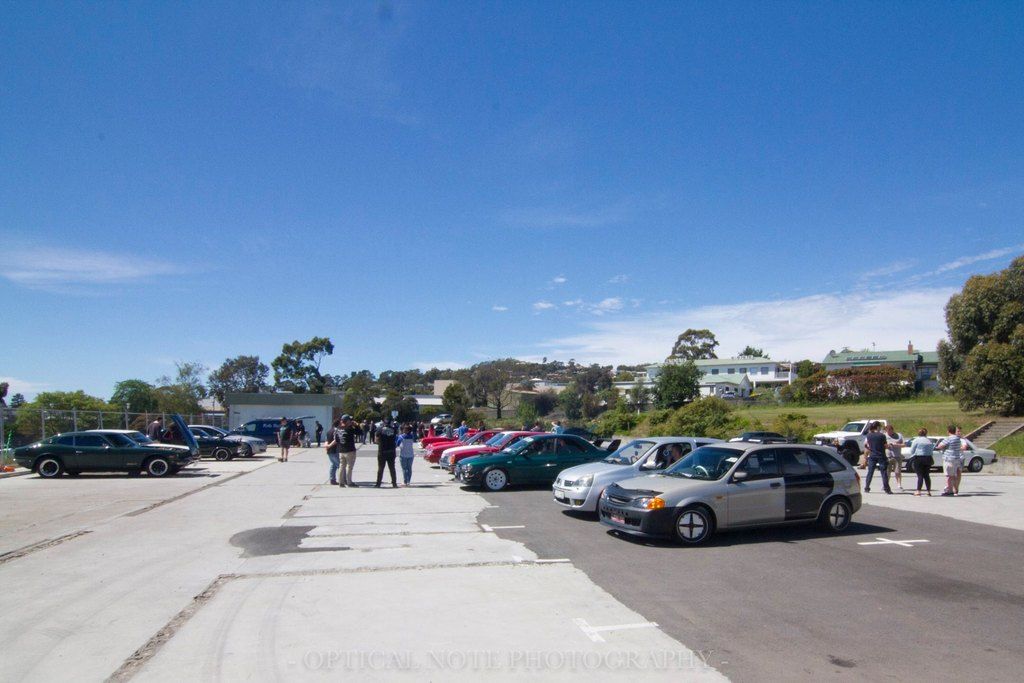 Doing some work on the Subie: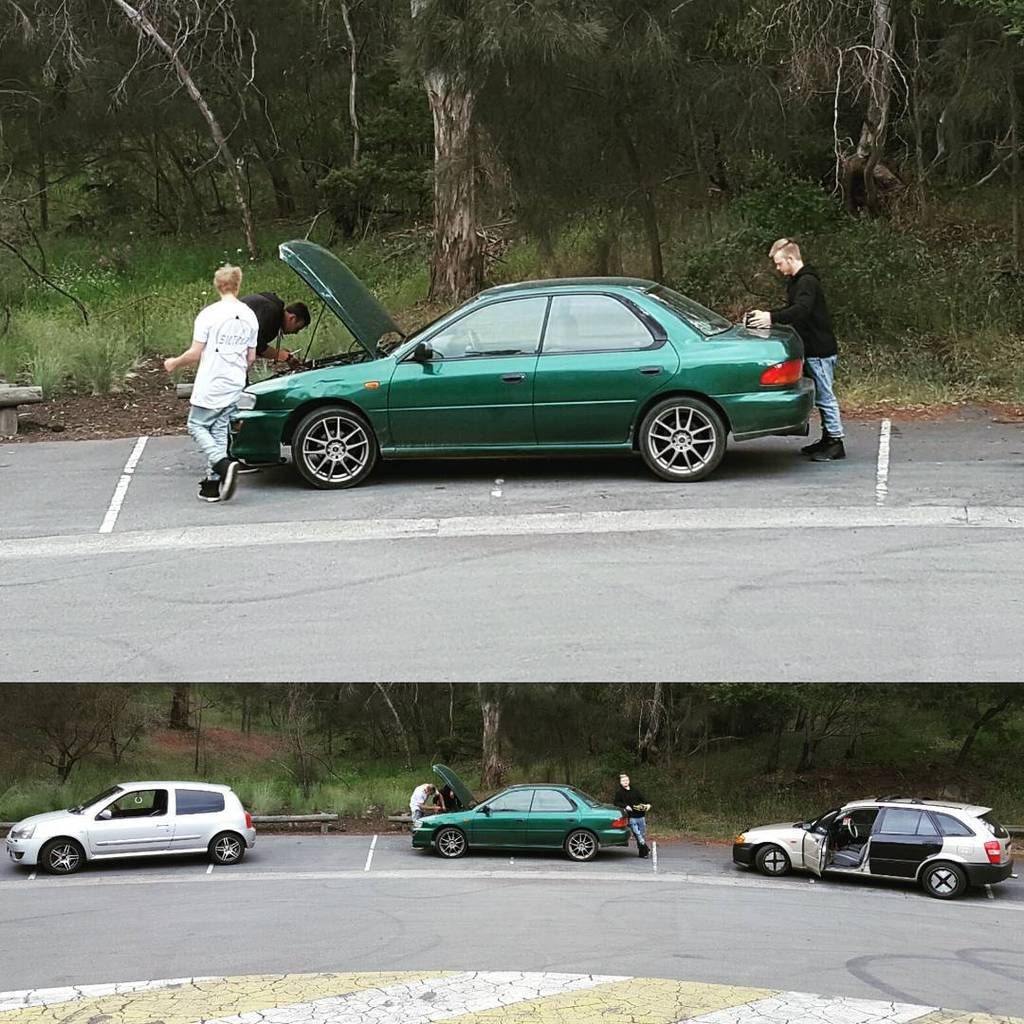 Bonus Pics: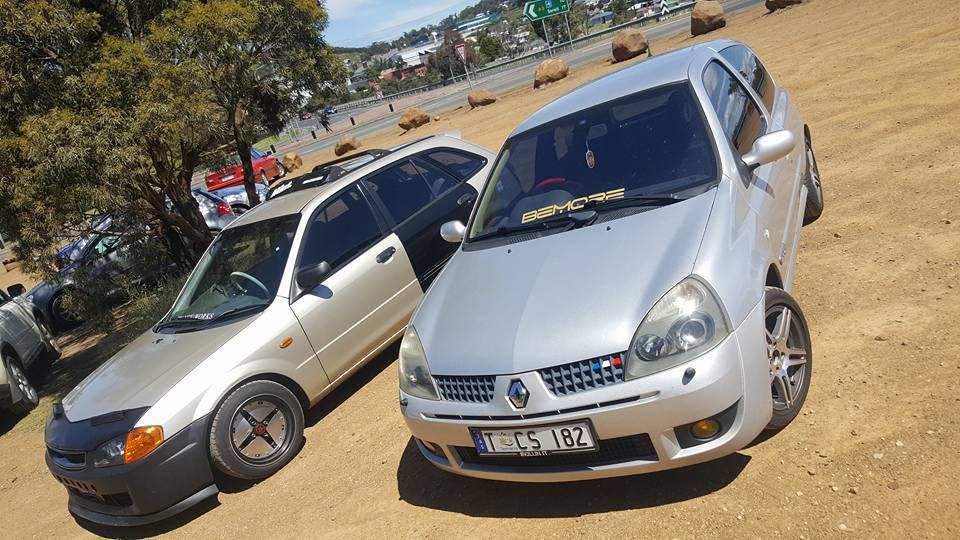 ---
RE: IRL rides - HeyDayJordan - 11-28-2016 12:05 AM

Just a wee bit of touching up done today. Front bumper had a bit of paint flaking under the lower grille, so sanded that and painted that flat black and used the rest of the can to renew the upper and lower grilles and slot-light surrounds. However the spotlights will soon be replaced with brake vents. Ignore the wheels for now as the blue wheels scrape on the rear calipers. Got some 15x8 +20 XXR 005s coming soon.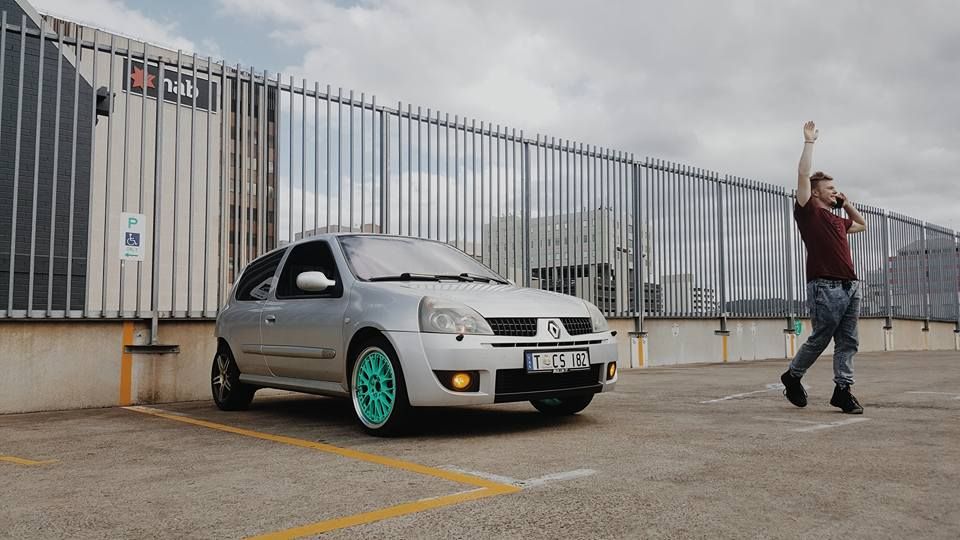 Edit:
My bro sprayed his front bumper this morning also. Quite a surprise haha. Also used the exact same cans. His Subie came with a WRX bumper, but was quite rough. Paint is good now. Just going to drift-stitch a crack on the passenger side.

---
RE: IRL rides - gred - 11-28-2016 02:29 AM

the time has come... 120L sold today. sometimes i felt like setting it on fire and push it from the montain,but in the end it was pretty good car
but there were some issues with it and i felt like having a favorit again,so it was a time to move on...


---